Smoothies are one of my favourite things to drink, for many reasons, but the main one being that there are simply soooo many different combinations, each with their own unique health benefits that you can tailor to your own needs. You are sure to find one that you love and it will soon become a staple in your kitchen.
Smoothies are an amazing and simple way to kick-start your day, boosting your metabolism, or you can have one as an afternoon pick-me-up during the day for a quick burst of energy.
I have collected 10 recipes for these purposes to share with you including :
Glowing skin
Weight loss
Muscle gain
antioxidants
fibre
strong bones
immunity boosting
sustained energy
blood pressure
anti-inflammation
Ready step up your smoothie game?
Lets go!
Glowing Skin
glowing skin green smoothie
Key ingredients: Avocado, Mango, Pineapple, Coconut water, Kale/Spinach
Smoothies can greatly improve your health from the inside, and this can show through your skin. Specific ingredients such as avocado, spinach, kale, coconut, oatmeal, green tea, orange, rosemary and almonds in particular can play a huge role in achieving clear, healthy and glowing skin, as well as improving skin tone and texture.
Click here for the full recipe
Weight loss
Orange creamsicle protein shake
Key ingredients: Oranges, Whey protein, Bananas, Honey
Many nutritionists worldwide agree in the wonders that smoothies can achieve in terms of weight loss. This particular recipe includes ingredients that are high in fibre, and protein, both of which keep you fuller for longer and can satisfy cravings by slowing down your digestion.  (Tip: add a sprinkle of cinnamon to any smoothie recipe to add a delicious flavour and increase your metabolism)
Click here for the full recipe
Post workout (muscle gain)
Peanut Butter Rapture
Key ingredients: Almond Milk, Whey protein, Chlorella, Peanut butter
After a workout, you can maximize results by eating or drinking something high in protein, which will work on repairing muscle cells, helping them strengthen so you can push yourself even further the next time.
Click here for the full recipe
Antioxidants
energy boosting vegan wild blueberry smoothie
Key ingredients: Blueberries, spinach, avocado, walnuts
Antioxidants protect your body in many different ways. There are many varied forms of antioxidants, so they all have unique qualities. Overall though, antioxidants can help your overall health, skin, eyes and even help prevent diseases. Smoothies make it easy to pack in those antioxidant rich foods into your diet.
Click here for the full recipe
Fibre
Berry Flaxseed smoothie
Key ingredients: Flaxseeds, orange juice, yoghurt, blueberries
Fibre is an important part of any diet. It can help prevent heart disease, diabetes, weight gain and some cancers, while also improving digestive health. Flaxseeds are packed with fibre, and multiple studies have shown that they can potentially reduce breast cancer risk.
Click here for the full recipe
Strong Bones
Strong bones smoothie
Key ingredients: Greek yogurt, Collard greens, Sesame seeds, bananas
This smoothie is a calcium powerhouse, full of nutrients that support healthy bones. Bananas, oranges and strawberries contain potassium and vitamin c, also essential to bone health. Not only does calcium help strong bones, but it helps to maintain heart, muscle and nerve function.
Click here for the full recipe
Immunity boosting
Spring detox smoothie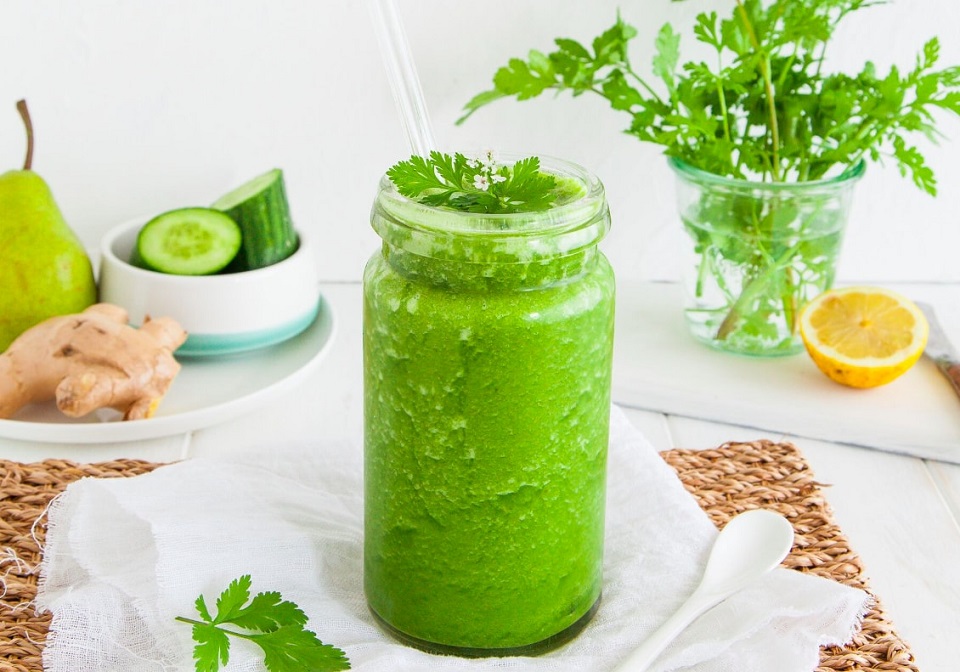 Key ingredients: Coriander, pear, ginger, spinach, lemon juice
Pear isn't typically a fruit that you would think of to add to smoothies, but you totally should. Pears are amazing at eliminating toxins, helping your bodies immune system to fight off colds and diseases. Coriander is a powerful ingredient that helps the whole body detox from the inside out and ginger can help relieve  your body from inflammation.
Click here for the full recipe
Sustained energy
Mulberry, lavender and kale energizing smoothie
Key Ingredients: Mulberries, kale, lavender, oats, cashews
Next time you wake up instantly craving some caffeine to wake you up, try this powerhouse smoothie. It is full of fibres and slow burning carbs to give you energy that will last. It contains friendly bacteria for you digestive system, as well as keeping your energy levels stable. Mulberries contain antioxidants and polyphenols as well as a range of vitamins and minerals to help you through a stressful day. Oats and cashews are a rich source of fibres and carbs to give you a morning kick that will last all day long.
Click here for the full recipe
Blood pressure
Blueberry banana bliss
Key ingredients: Blueberries, bananas, spinach, yogurt
In addition to antioxidants, this smoothie is filled with blood-pressure lowering potassium, probiotics, and dietary nitrate. Recent studies have revealed that blueberries may be the key to lowering blood-pressure naturally. Simply a cup of them daily can aid this, and this smoothie recipe helps you hit that quota with the addition of other nutrients.
Click here for the full recipe
Anti-inflammatory
Anti-inflammatory turmeric smoothie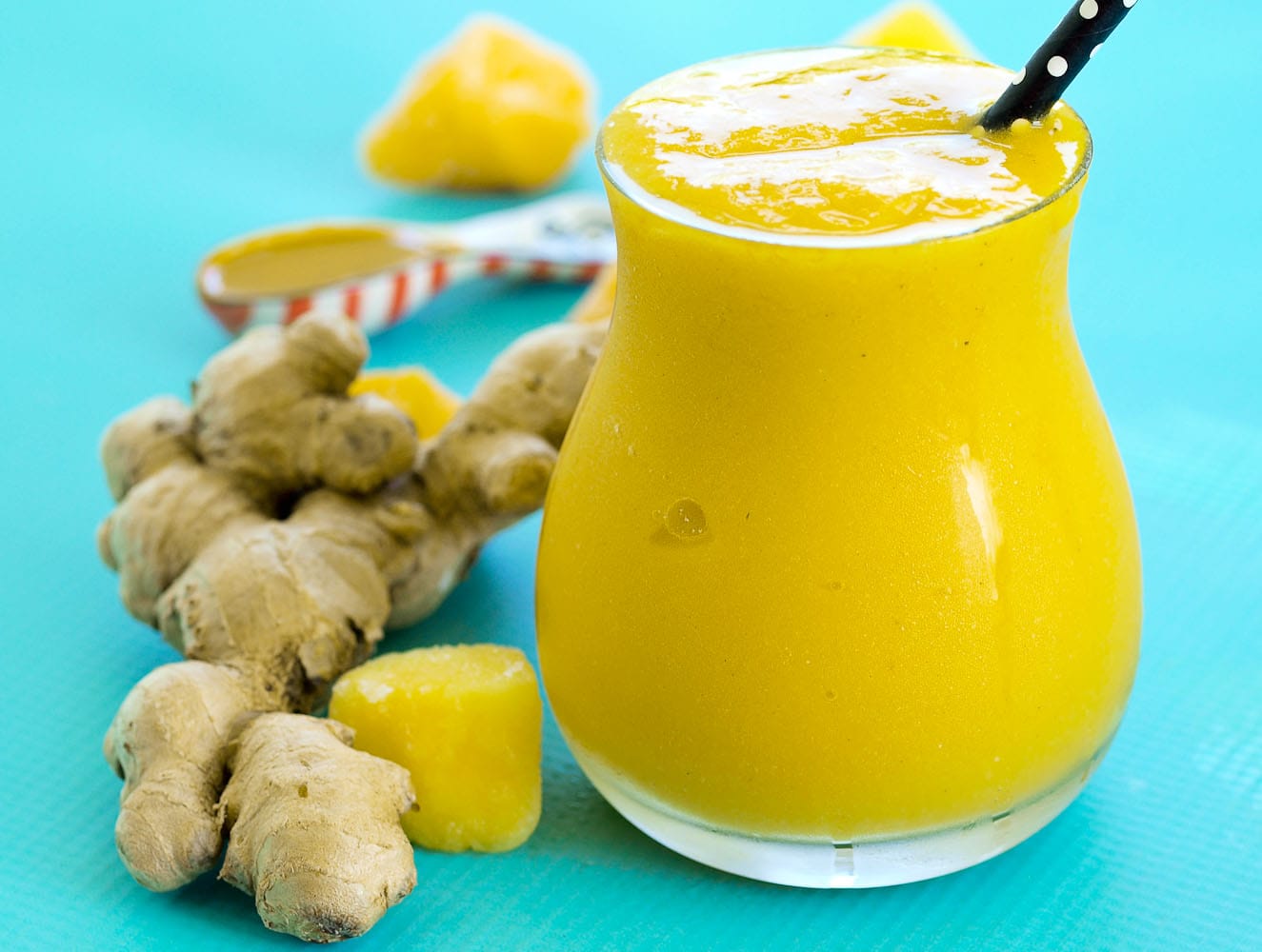 Key ingredients: Tumeric, ginger, coconut oil, pineapple, mango
Tumeric is an amazing spice for inflammation and arthritis. I would definitely recommend reading this post all about it if you want to go more in depth. It contains highly powerful relieving effects for joints and any inflammation problems you might have. This recipe is combined with ginger to enhance the healing properties even further.
Click here for the full recipe